What to Expect from Cross References Analysis
A thorough analysis of your code, identifying all objects and their dependencies.
Understand the Code
No Matter How Complex
Visualize the inner workings of your code.
Explore and maintain legacy applications
Help newcomers become productive faster
Evaluate the impact of a change (Impact Analysis)
Don't break your app after a change!
Anticipate its consequences. For instance:
A DB column is changed: where is it used in my code?
A variable is renamed: where is it referenced?
New function parameter: which calls should be updated?
Impact Analysis
Avoid Regressions after a change
View calls to certain items at instruction level.
CRUD Matrix
Review CRUD Operations
Find all objects accessing certain tables.
Call Graphs
Explore Chains of Calls
View chains of calls.
Review a business feature.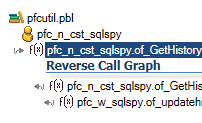 Reverse Call Graphs
Recursive Impact Analysis
View calling relationships at multiple levels