After conducting a global survey among companies developing PowerBuilder (PB) applications, Novalys has published the 2019 PowerBuilder Usage Survey Report.
Through this survey, an overview of the current PowerBuilder project landscape has been put forward. You will discover in which context PB is being used, the most popular versions, short-term evolution forecasts by PB Shops, and much more.
To get a complete overview of the survey insights, peruse through the survey data evaluation below:
2019 PowerBuilder Survey Data Evaluation
1. A lion's share of the participants, that is 39% belonged to the USA. Other PowerBuilder enthusiasts from Peru, Germany, Canada, Mexico, France, India, Colombia, Spain, and Korea showed a fair share of participation in the survey.
2. As per the survey stats, the majority of PowerBuilder teams are composed of 1 to 3 developers. Though, a significant portion (29%) of companies engage 4 to 8 developers for developing PB applications.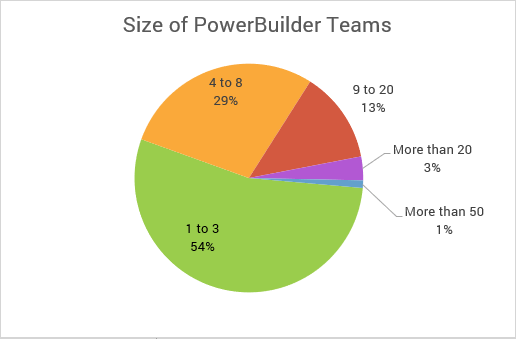 3. On enquiring about PowerBuilder usage history, the vast majority (73%) of PB projects have been in operation for more than 15 years. The share of new users remains marginal with only 4% of projects launched less than 5 years ago.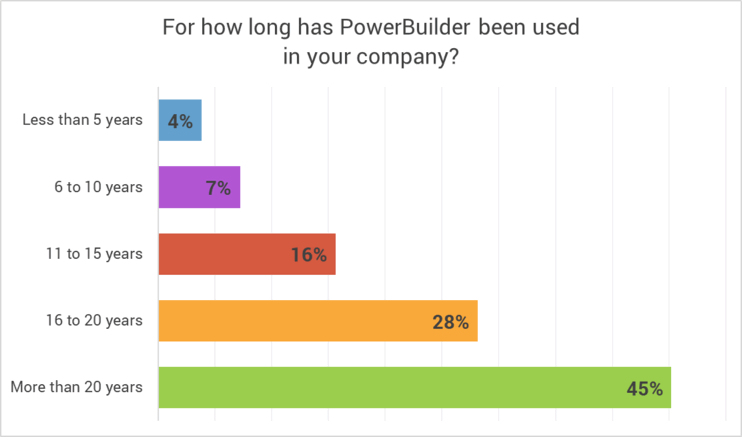 4. When asked to comment on the future use of PowerBuilder, 72% of the participants predicted that they would use it for more than two years.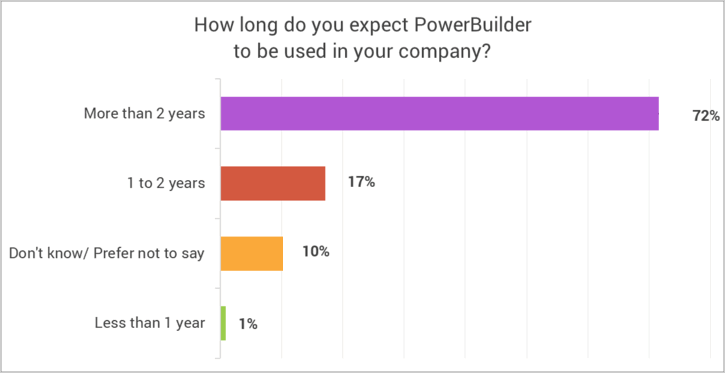 5. Regarding the purpose of using PowerBuilder technology, 55% of the participants responded that they use it for the development of new applications. The other 45% use it only for the maintenance of existing applications.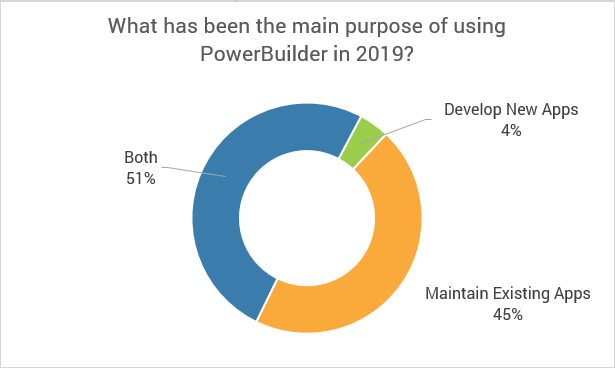 6. PB2017 turned out to be the most frequently used PowerBuilder version for the year 2019 followed by PB12.5, PB2019, PB 11.x, and PB12.6.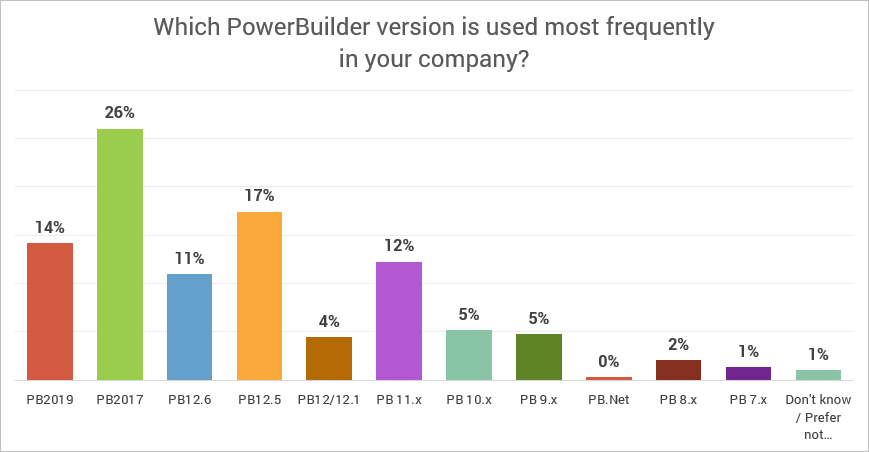 7. Interestingly, two most recent versions are already widely used. In particular, PB2019 which was released only 6 months ago is already used by 19% of the participants.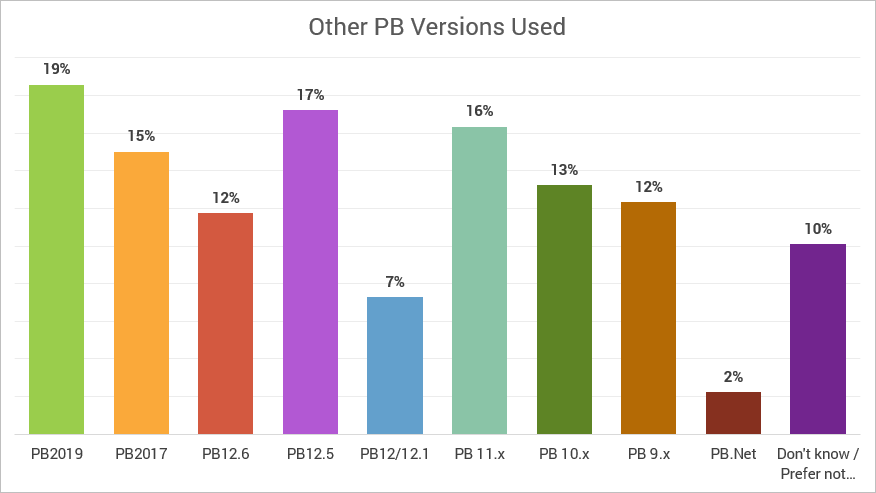 This strong adoption of recent versions of PowerBuilder is confirmed by the analysis of the results over several years, revealing a rapid drop out of PB 12.x versions, which still was used by nearly half of the projects in 2017.
8. This trend is confirmed here since 53% of the participants intended to migrate to a newer version of PowerBuilder in 2019
Looking back over previous years, 2019 marks the strongest year in terms of PowerBuilder application upgrade intentions. This result can be credited to recent developments and the announced roadmap for PowerBuilder under the direction of Appeon.
9. Oracle (25%), and especially SQL Server (37%) are well ahead of other databases used by PB projects.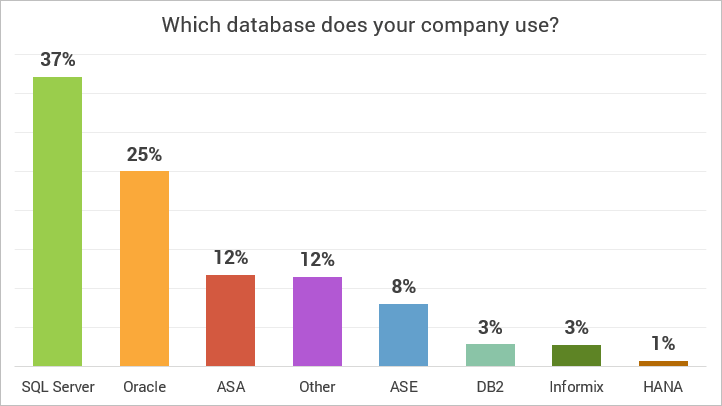 10. 88% of PowerBuilder applications still include stored procedures despite the current trend to migrate the business logic to Web services / Web APIs (see Q12 below).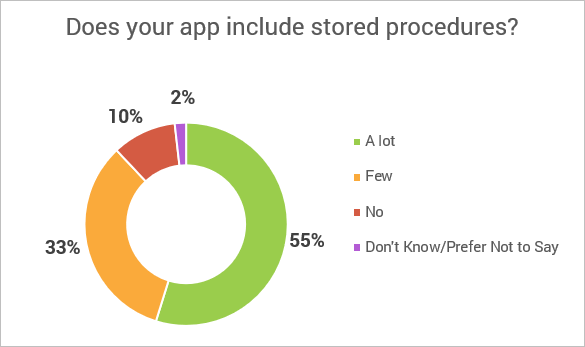 11. User-Interface (UI) emerged to be the most-voted feature for modernization apart from Business Logic, Reporting, Security, Multilingual, and others.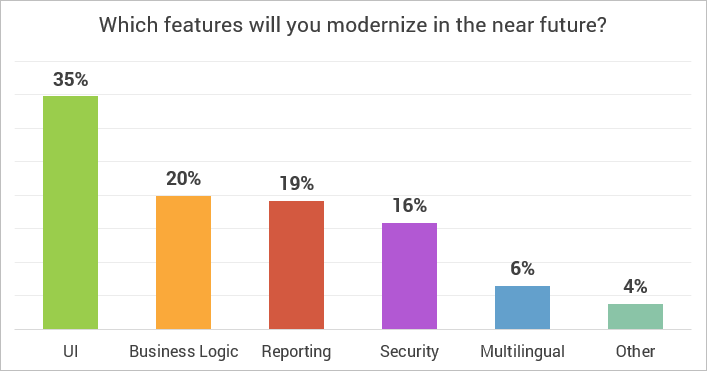 12. PowerBuilder is traditionally used to create 2-tier applications, which is confirmed by the survey results. However, a quarter of the projects already use it for N-Tier/Web services projects.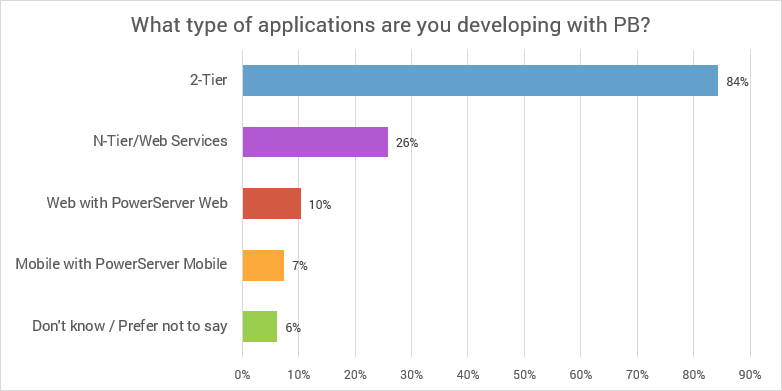 13. The emergence of N-Tier/Web Service projects amongst PB shops is confirmed here since nearly half of the projects plan to go there in the future.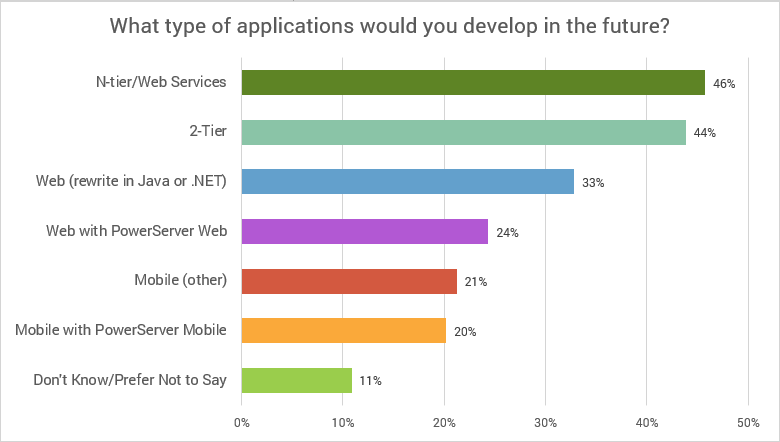 14. .NET and Java are still the widely used technologies in parallel with PowerBuilder, and ahead of Web and Oracle technologies. It should be noted that Angular is already in use in 31% of cases.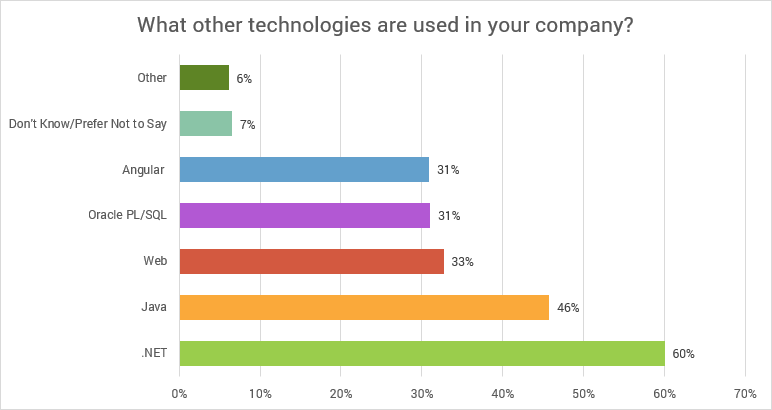 15. Developers were requested to rate PowerBuilder out of 10 (0 being very bad to 10 being excellent). As seen in the chart below, PowerBuilder is valued by its users with an average of 8 out of 10.