Impact Analysis
Assess the consequences of a change
Identify which items need to be updated to accomplish a modification.
Don't break your application after a change!
When you need to modify your application, it is important to know the potential consequences of the change in the source code to avoid regressions.
The static code analysis performed by Visual Expert allows you to find all references to a given item: variables, functions, objects, columns, tables, procedures, etc.
Visual Expert answers typical questions like:
This variable has changed: what are the consequences on my code?
If I add a parameter to a function, which calls should I update?
If a table or column is changed, where is it used in my code?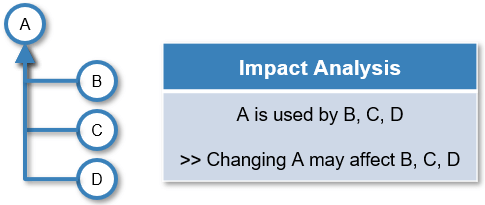 Read this tutorial on Impact Analysis by Visual Expert to understand how to leverage instruction-level references in the form of TreeView or E/R diagrams.