Why use Visual Expert
Identify the consequences of a change
Avoid Regressions when evolving your application
Understand complex code
Master large and complex applications
Document your applications
Automatically generate a complete documentation of your application
Review and optimize your code
Explore your code in ways you've never done before
Transfer the knowledge of your applications
Enable team members to collaborate during your projects.
Select Your Language
Visual Expert Standalone
When analyzing small volumes of code or trying Visual Expert, you can run it locally on a developer PC.
Visual Expert Team System
For large volumes of code, and for sharing analyses between team members, Visual Expert will run on a server.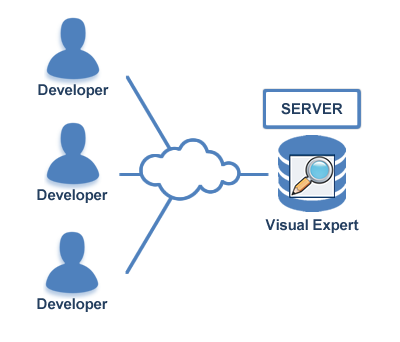 Support for multiple programming languages
Visual Expert can analyze several programming languages, either separately (Oracle code only for instance) or altogether
(for example: PowerBuilder Front-end + an Oracle back-end + Front-end / Back-end dependencies).
Multi-application
You can analyse multiple applications at the same time.
For example if you maintain a portfolio and need to explore several applications in parallel.
Collaborative features
Team members can collaborate, sharing the same code analysis. For instance, an analyst prepares a change and lists the objects impacted. Teammates leverage this Impact Analysis, to review and change the corresponding objects. More about Visual Expert TEAM SYSTEM
Keep snapshots of your code
When a new code analysis is done, previous ones remain available. Open previous analyses to browse older versions of your code. Compare two code Analyses to find differences between them.
Choose your Version of Visual Expert

Reduces expenses
Using VE's features allows a much quicker turnaround, reduces expenses and frees up resources for more productive work.
- Project Manager
New York State Department of Environmental Conservation

Become familiar with a new application in literally a few hours
(The) More you work with Visual Expert - more you understand how convenient it is. (...) I cannot remember so powerful a tool that allows a user to become familiar with a new application in literally a few hours
- Georges Mikhailovsky
Calibre Systems